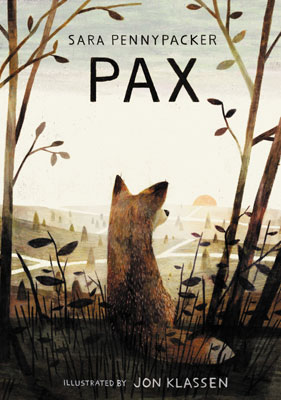 Image from: www.sarapennypacker.com
by Sara Pennypacker
I was excited to see that Sara Pennypacker (think Clementine) had a new book out and, even better, to see that it was also illustrated by Jon Klassen (think This is Not My Hat and I Want My Hat Back).
The story is much different that any of the other Sara Pennypacker books I have read. The tone is much more serious and the plot is more intricate. Pax is a wolf who grows up domesticated because he was abandoned by his family as a baby. After living for many years with his beloved boy Peter, Peter's dad is called to war and forces Peter to leave Pax alone in the wild.
Peter is filled with regret and realizes he should never have abandoned Pax. The rest of the novel is Peter's attempt to find Pax back and Pax's experience of being in the wild for the first time since he was a baby.
This book is a story of friendship, bonds, forgiveness and love. If you love animals, especially foxes, you will love all the chapters that explain about Pax's integration into the wild. In terms of age range, I would say this book would be best suited for kids in Grade 4 or 5. It is part of the
Global Read Aloud
as well so kids all over the world will be hearing or reading this story. Join the fun and read this book today!