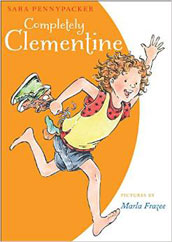 Image from: www.sarapennypacker.com


I love the Clementine series and I always read new ones as soon as I see them. The only Clementine book I didn't really like was The Spring Trip so I was hoping this one would be great and it was!
In this story, Clementine is worried about the end of Grade 3 because she really loved her teacher and doesn't want to say goodbye. She is also looking forward to the arrival of her new sibling and she is figuring out what to do because she is really mad at her dad and isn't speaking to him. I liked all three main parts of this story and the ending as well.
I like Clementine's character because she is really sweet and thoughtful and when things go wrong she usually meant for them to go right. I think she is a perfect Grade 3 character!
If you like Junie B. you will probably also like Clementine.